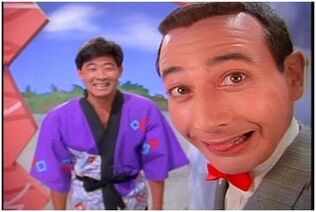 Episode Plot
Mrs. Rene gives Pee-wee a letter from his pen pal Oki Doki from Japan. Oki tells Pee-wee he is coming to visit. Oki shows Pee-wee sushi, orgami, and Gamera. Everyone also plays charades when Oki leaves.
Trivia
- Mrs. Rene, and Miss Yvonne visit in this episode. Cowboy Curtis calls on the Picturephone.
- Joey Miyashima played Oki Doki.
- Mrs. Rene does the secret word in this episode.
- Gamera is a Japanese video dubbed in English.

Notes
Secret word: place
Connect-the-dots: none
Snack: water
Wish: none
&nbsp
Ad blocker interference detected!
Wikia is a free-to-use site that makes money from advertising. We have a modified experience for viewers using ad blockers

Wikia is not accessible if you've made further modifications. Remove the custom ad blocker rule(s) and the page will load as expected.