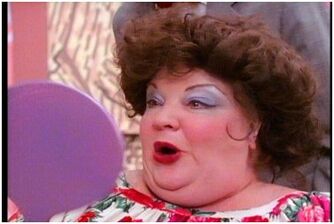 Episode Plot
Edit
Jambi grants Pee-wee's wish poorly. Pee-wee plays fetch with Pteri. Pee-wee makes a space helmet out of a paper bag. Miss Yvonne gives Mrs. Steve a beauty makeover. Tito gives Pee-wee
a piece of foil for his foil ball and a lucky penny. Cowntess borrows things for a tea party. The playhouse gang come over for fun.
Miss Yvonne, Mrs. Steve, Tito, and the playhouse gang visit in this episode.
Dixie stands in front of the door when she and the king come over, and asks if Yvonne can give her a makeover next. Sadly, this never happens.
The scene where Pee-wee puts Pterri to sleep in his nest is reused footage from Rainy Day.
Secret word: time
Connect-the-dots: dog sled
Snack: none
Wish: Someone would come over (Salesman)
Ad blocker interference detected!
Wikia is a free-to-use site that makes money from advertising. We have a modified experience for viewers using ad blockers

Wikia is not accessible if you've made further modifications. Remove the custom ad blocker rule(s) and the page will load as expected.