Captain Carl
(real name: Carl) is a gruff and gritty sea captain, who would reluctantly put up with Pee-Wee and his childish antics out of friendship. Once when Pee-Wee pretended to run a restaurant, Captain Carl acted as the customer, but left angered over the fact that he felt ripped off for a peanut butter sandwich, while Pee-Wee failed to realize he did not run a good business. Captain Carl does have faults of his own. For instance, when Pee-Wee won two tickets to a Hawaiian-themed restaurant. Carl tried to get himself invited as he has sailed to Hawaii and told Pee-Wee about Polynesian customs, leading to an argument with
Tito
,
Mrs. Steve
,
Conky
,
Chairry
,
Magic Screen
 and
Miss Yvonne
. After Pee-wee had no choice but to use Tito's silver whistle to silence everyone, Carl later apologized to Pee-Wee and the others when they realized the extent of their bickering. Despite Pee-Wee's antics, Captain Carl does seem to be patient and generous with Pee-Wee. He once gave Pee-Wee a gift of a sailor's spyglass, and Pee-Wee (having just learned a lesson from
Reba the Mail Lady
 about correspondence mail) says he will get to work on a thank you note immediately.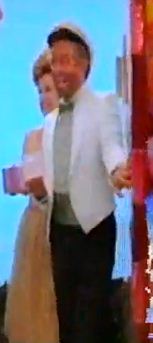 Played by Phil Hartman, who had worked with Paul Ruebens as part of the Groundlings comedy troupe and helped found the Pee-Wee Herman Show. Hartman also appeared with Pee-Wee in the film Pee-Wee's Big Adventure, but playing a different character than Captain Carl.
The character only appeared in Season 1, and was dropped when Phil Hartman had further SNL commitments, which meant that Phil could not make the move to California to begin filming the remaining seasons.