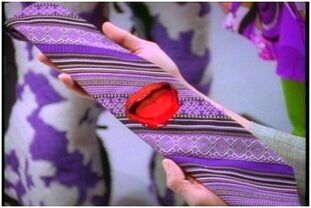 Episode Plot
Edit
As the episode opens, Pee-Wee is painting a picture in the style of Pablo Picasso. Mrs. Rene comes over and falls in love with the painting, so Pee-Wee lets Mrs. Rene have it. She accidentally hugs it, and the painting gets printed on her shirt. However, she doesn't care, and loves what she did to her shirt, and goes to show it off. Later, Cowntess comes over and tells Pee-wee that he hasn't returned her pencil sharpener—he had borrowed it four years before the start of the series. Pee-wee looks everywhere for the pencil sharpener and finds an old suit that he wore when we was a child (meaning that he's actually a childlike man today), and decides to have a clothing drive. Everyone donates their old clothes, but soon, Pee-Wee remembers the Cowntess's pencil sharpener! Pee-Wee and friends look for the pencil sharpener everywhere, but can't find it, so Pee-wee has to tell Cowntess the terrible news. Fortunately, Cowntess cheers Pee-Wee up by letting him know that she had misplaced her pencil sharpener, she had it all along, and he didn't have it after all!
Mrs. Rene, Ricardo, and Cowboy Curtis visit in this episode.
Penny is shown in this episode.
This is the second time that Herman's iconic suits are referred to as "Pee-wee suits". The first time was in Dr. Pee Wee and the Del Rubios.
The song that Pee-Wee dances in Cowntess's shoes is "Fever" by Peggy Lee.
Brandon Todd Barrad played Pee-wee as a young boy.

A new Playhouse set was constructed just for this flashback, depicting the Playhouse as how it would have looked in the black-and-white days of shows like Howdy Doody and The Pinky Lee Show.

This episode's events take place in May of 1990, as mentioned by Dirty Dog in Playhouse for Sale.
Reba is mentioned in this episode; she donates a dashiki offscreen.

Miss Yvonne is mentioned in this episode; she donates a pair of pink hotpants (which were commonly associated with the sex industry by the mid-1970s, which contributed to their fall from fashion). As a joke on the name, Pee-Wee pretends they are hot (as in the temperature) while the sounds of grease boiling in a frying pan is heard).

Mrs. Rene puts her shirt worn at the episode's beginning into the clothing drive donations.
A young Pterri was seen in this episode.
This is the second time Pee-wee Herman said "Wish, Did Somebody Say Wish". The first was in I Remember Curtis.
Secret word: wait
Connect-the-dots: dragster
Snack: none
Wish: none