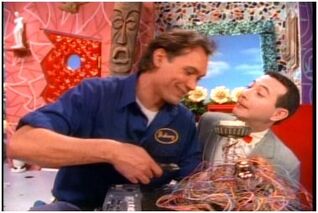 Episode Plot
Edit
Pee-wee puts on "The Billy Baloney Show." Unfortunately, Conky has a problem when Pee-wee gets the secret word and malfunctions, with the robot becoming almost "dead" completely (really, in a very deep sleep) when Mrs. Rene messes with him. Pee-wee finds the Conky 2000 owner's manual that he got when he first bought him, but takes Conky apart in his attempt to fix him himself, Conky having woken from his being "dead" earlier. When the King of Cartoons arrives to show a cartoon and remedy the situation, Pee-wee calls the company on the Picturephone and they send Johnny Wilson, the authorized Conky Repairman, to fix Conky and upgrade him.
Pee-wee wants to help save his friend, but Johnny tells him he should stay out of the way for now and that he's got everything under control. Pee-wee makes Conky a get-well card in the meantime. Conky is soon fixed, and Johnny tells Pee-wee that Conky just needed a tune-up and some upgrades, and it's always best to hire a qualified repairman when it comes to fixing mechanical and electronic things around your home, as it takes far less time and effort.
Mrs. Rene, King of Cartoons, and Miss Yvonne visit in this episode.
Conky is heavily focused on in this episode.
Jimmy Smiths played Johnny.
El Hombre is shown in this episode.
Secret word: great ('grrrrr' due to Conky's malfunction)
Connect-the-dots: none
Snack: none
Wish: none