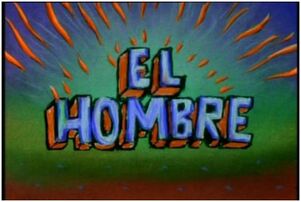 Episode Plot
Reba comes over and has a splinter in her finger, so Pee-wee plays doctor and gets it out; he also gives Reba a bill. The Del Rubio triplets come over and play pass the orange then sing a song. Pee-wee shares an orange but Randy eats his secton; Pee-wee plants the seed and grows a tree. Pee-wee says good-bye to everyone at home.
Trivia
- The King of Cartoons only appears once in a while starting with Season 4.
- The secret word is flashed on screen in all capitalized letters.
- Reba and the King of Cartoons visit in this episode.
- The Del Rubio Triplets played themselves, this it the second time and last time they were seen; the first was the Christmas special.
- First appearance of Pee-wee's dog Roosevelt.
- First time there was no Penny cartoon.
- First time we see El Hombre.
- First time we see the waterfall painting with rinning water.
Notes
Secret word: well
Connect-the-dots: none
Snack: orange
Wish: That the orange tree would grow faster.&nbsp
Ad blocker interference detected!
Wikia is a free-to-use site that makes money from advertising. We have a modified experience for viewers using ad blockers

Wikia is not accessible if you've made further modifications. Remove the custom ad blocker rule(s) and the page will load as expected.