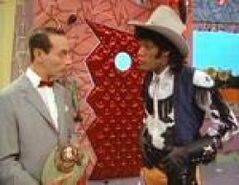 Episode Plot
Edit
Pee-wee plays with his magic glasses. Cowboy Curtis teaches Pee-wee square dancing and Pee-wee teaches Cowboy Curtis pogo dancing. They then have snack cowboy-style. Pee-wee shows the inside of his mind. Pee-wee and Conky play checkers (Conky wins). The playhouse has a rythm band with pots and pans. Pee-wee learns how the post office works.
Cowboy Curtis and Reba visit in this episode.
Dixie gets a new jacket in this episode.
It is revealed in this episode that Conky can play checkers.
During snacktime, many characters sing Playhouse on the Range (to the tune of Home on the Range). The lyrics go like this:
Playhouse, Playhouse on the range
Where things are a little bit strange
Where often is heard the secret word
And the cows are all happy all day
During the song, we learn that Conky can play the guitar.
When Pee-wee comes out of Magic Screen, he lands on the floor; Chairry says "safe" like a baseball umpire.
Pee-wee lip-synchs to a record before leaving on his scooter.
Secret word: back
Connect-the-dots: Jungle Gym (and slide)
Snack: Cowboy-style food
Wish: Snack was done being cooked.
Ad blocker interference detected!
Wikia is a free-to-use site that makes money from advertising. We have a modified experience for viewers using ad blockers

Wikia is not accessible if you've made further modifications. Remove the custom ad blocker rule(s) and the page will load as expected.