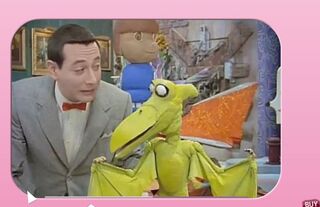 Episode Plot
Edit
Pee-wee plays with a bilboquet (ball-and-cup) game but fails, so Yvonne plays one later when she visits. Conky shows home movies of his family. Pee-wee's things are mysteriously disappearing. A man named Busby ends up taking them without Pee-Wee's permission and decides to return them. Busby learns that in order to make friends, he should just be himself and not another person.
Miss Yvonne visits in this episode.
Leslie Jordan played Busby.
Max Robert played The Organist.
This is the last episode where El Hombre is shown.
When Pee-wee goes in the refrigerator, the food is watching a clip from "Big Top Pee-wee", a movie that was made during Season 2's development.
Secret word: around
Connect-the-dots: none (since all of Pee-wee's dots except one were stolen)
Snack: Kellogg's Corn Flakes (aborted because Pee-wee's cereal bowl and spoon were taken)
Wish: none