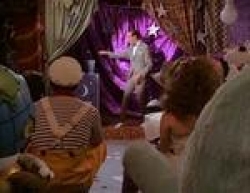 Episode Plot
Edit
Pee-wee gets a magic kit in the mail and puts on a magic-comedy show in the style of Penn and Teller. During the show, he makes himself vanish. At first, he enjoys pulling tricks on his friends, then realizes he can't make himself visible again, so he tries to turn to Jambi.
Reba delivers the magic kit. Later, Cowboy Curtis, Miss Yvonne, Mrs. Steve, and Captain Carl come to the magic show.
This is the first time that Dixie announces the King as "the King of Cartoons"; in early episodes it was "King Cartoon".
When Jambi recoils at Pee-wee's headless body, the sound used is the classic transporter sound effect from Star Trek: The Original Series.
When Pee-wee takes the first bite of his salad, he says "The salad is a little dry," and no one screams even though the secret word is little.
Knucklehead's joke backfires in this episode.
Only time where Pee-wee scares the salesman away he had no head the first time Jambi tried to make him visible again.
After the salesman leaves, the door doesn't close.
Secret word: little
Connect-the-dots: tree
Snack: salad
Wish: To be visible again.
Ad blocker interference detected!
Wikia is a free-to-use site that makes money from advertising. We have a modified experience for viewers using ad blockers

Wikia is not accessible if you've made further modifications. Remove the custom ad blocker rule(s) and the page will load as expected.