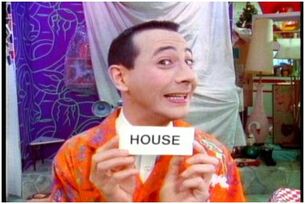 Episode Plot
Edit
In the first episode of Season 2 of Pee-Wee's Playhouse, Pee-wee redecorates the playhouse and invites his friends over to help because the full opening was not shown. He then tricks everyone into cleaning up by pretending that the work is fun. After redecorating, they have a tea party and play London Bridge. Everyone meets Pee-wee's new neighbor, Mrs. Rene.
The secret word is now typed on a slip pf paper big enough to fit the whole word capitalized, however the word flashes on screen in all lowercase letters.
When Pee-wee reads the name of the place where he got Clocky, he says the word warehouse, and no one screams even though the secret word is "house".
Pee-wee tricking everyone into cleaning up by pretending it's fun rather than work is a nod to the famous fence-painting scene in the book "Tom Sawyer".
The full opening was not shown.
First appearances of Ricardo, Mrs. Rene, Floory, and Clockey and revised Globey.
William Marshall takes over the role of The King of Cartoons from Gilbert Lewis. Johann Carlo left the show so Dixie no longer appears.
The King of Cartoons now shows cartoons on a TV with a special remote.
Cowboy Curtis, Miss Yvonne, Reba, Ricardo, and Mrs. Rene visit in this episode.
First time Pee-wee plays with Billy Baloney.
Pee-wee donates his foil ball to the foil museum and starts a rubber band ball instead.
This marked the first time, Pee-wee began wearing the helmet, when he leaves on his scooter at the end of this episode. In Season 1, Pee-wee does not wear a helmet, when he leaves on his scooter.
Starting with this episode, Pee-wee flies past Mount Rushmore on his scooter in the closing.
Secret word: house (playhouse)
Connect-the-dots: none
Snack: sun tea and cookies
Wish: Jambi wishes for another cup of tea
Ad blocker interference detected!
Wikia is a free-to-use site that makes money from advertising. We have a modified experience for viewers using ad blockers

Wikia is not accessible if you've made further modifications. Remove the custom ad blocker rule(s) and the page will load as expected.