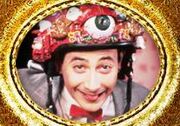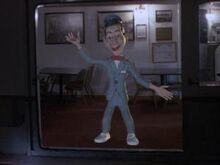 Stub templates just show off a wiki's flaws. Instead of using a stub template, make the page better!
'Pee-wee Herman, comedian Paul Reubens' signature character, is the titular protagonist of Pee-wee's Playhouse. He is the owner of the playhouse. He is a zany, childlike fellow with a pomaded crew-cut, a too-small gray suit, a bow-tie, a high, nasal voice, and a frenzied manner. His playhouse boasts oddball characters and talking furniture and he likes to ride his bike and cook, whipping up such delights as Ice Cream Soup.
His zany antics, in the first season, angered characters such as Mrs. Steve and Captain Carl. When Role Playing with his friends, he acts like a tyrannical monster, looking down on his friends as slaves that he rules over with an iron fist.
-Pee-wee makes a cameo in Michael Jackson's Moonwalker as one of the disguises Michael wears.
-Pee-wee also makes an appearance in Back to the Beach where he performs "Surfn Bird" by the Trashmen.
-Matchbox, a toy company that made toys of Pee-wee and the gang, had made a talking Pee-wee doll and they had made a talking Freddy Krueger doll. Both dolls were made in the same factory which resulted in the voice boxes of the dolls at the time being swapped so that mean't there were Freddy Krueger dolls that said Pee-wee Herman quotes.
-Paul Reubens got the name "Pee-wee" from a toy harmonica he had when he was a kid.
-After Paul Reubens arrest in 1991 Matchbox recalled all their toys of Pee-wee herman.
-Pee-wee was inspired by "Pinky Lee" a character from a children's show in the 1950s who dressed and acted similar to Pee-wee.
Ad blocker interference detected!
Wikia is a free-to-use site that makes money from advertising. We have a modified experience for viewers using ad blockers

Wikia is not accessible if you've made further modifications. Remove the custom ad blocker rule(s) and the page will load as expected.