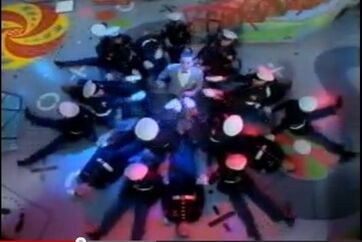 The
Pee-Wee's Playhouse Christmas Special Theme Song
is the intro song to the
Pee-Wee's Playhouse Christmas Special
.
Lyrics/Script
Edit
(The episode opens with a snowy forest. We pan to a big sign saying PEE-WEE'S PLAYHOUSE CHRISTMAS SPECIAL. As we pan along to the Playhouse, which is decorated for the holidays, we see claymation animals playing in the snow. A pitch pipe sounds. Inside, we see a men's chorus dressed in military attire, with their hats placed above their hearts, as they sing in harmonious acapella)
Chorus:
Oh, it's Christmas in the Playhouse
And our hearts are all aglow
As we welcome you to the Playhouse
For Pee-Wee's Christmas Special
Oh, the holidays are here again
Peace on earth, good will and cheer
And we wish you a seasons greetings
At this special time of year
(Afterward, Pee-Wee pops up)
Pee-Wee: CHRISTMAS! (The music jumps into a swing beat as the chorus dances. Pee-wee walks to the camera) Hello, everybody! My name is Pee-Wee! What's yours? Welcome to my very special Christmas special! Starring me, Pee-Wee Herman, and... Pterri, Conky, Globey, Floory, Cool Cat, Chicky Baby, Dirty Dog, Chairry, The Flowers, The Fish, Clocky, Mr. Kite,
Annette: (announces her own name) Annette!
Pee-Wee: (continues) Penny, Randy, Cowntess, Magic Screen, Mr. Window, The Ants, The Dinosaur Family, Billy Baloney, and the Food in the Refrigerator! Also starring... Cowboy Curtis, Miss Yvonne, Ricardo, Mrs. Rene, The King of Cartoons, Reba, and Jambi! And my special, special guest stars: Frankie Avalon, Cher, Charo, Del Rubio Triplets, Annette Funicello, Zsa Zsa Gabor, Whoppi Goldberg, Magic Johnson, Grace Jones, K.D. Lang, Little Richard, Joan Rivers, Dinah Shore, and Oprah Winfrey!
(After the cast is introduced, Pee-Wee starts singing)
Pee-Wee: (singing)
It's Christmas in the Playhouse
And we're gonna have a lot of fun
Merry Christmas, everybody
Merry Christmas, ev-ery-ooooonnnnnneeeeeeee..........!