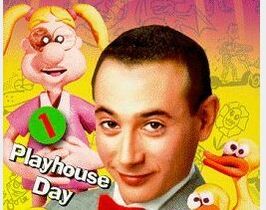 Episode Plot
Edit
When Cowboy Curtis, Miss Yvonne, and Cowntess can't come over because they have to work (much to Pee-wee's despair), everyone at the playhouse make up their own holiday and call it "Playhouse Day," which is all holidays in one. The King of Cartoons decides to make it a real holiday. Pee-wee's friends get the rest of the day off work to celebrate.
Cowboy Curtis, Miss Yvonne, and The King of Cartoons visit in this episode.
Penny is shown in this episode.
We find out in this episode that Conky's favorite holiday is Valentine's Day (February 14) and, judging by his reaction, he is quite the romantic despite being a robot.
Aired October 13, 1990 so you can celebrate along with everyone else!
Secret word: thing
Connect-the-dots: none
Snack: watermelon
Wish: none