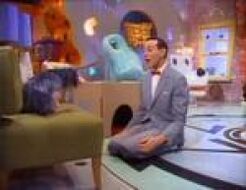 Episode Plot
Edit
Cowntess shows Pee-wee home movies of her vacation. Globey teaches Pee-wee how to say "Hello, my name is _____" in French and Chinese. King of Cartoons finds a puppy on the porch. Pee-wee calls Mrs. Rene and she tells him what to do. Everyone enjoys the puppy and wishes to keep it, but discover it belongs to Reba. Everyone makes macaroni art, but Randy makes some mac and cheese to have as a snack.
Reba visits in this episode.
Mrs. Rene calls on the Picturephone for the first time.

The Picturephone's more iconic ringing is introduced in this episode, though it is softer than in later episodes such as Miss Yvonne's Visit and Pajama Party.

Pee-wee plays with a toy dinosaur, while the dinosaur kids play with a Pee-wee doll.
Pee-wee names the puppy Aloysius.
It is revealed in this episode that Jambi is allergic to puppies, therefore he cannot grant wishes involving dogs.
Secret word: over
Connect-the-dots: none
Snack: raisins
Wish: Pee-wee tries to wish that Aloysius had identification, but Jambi can't stop sneezing.
Ad blocker interference detected!
Wikia is a free-to-use site that makes money from advertising. We have a modified experience for viewers using ad blockers

Wikia is not accessible if you've made further modifications. Remove the custom ad blocker rule(s) and the page will load as expected.