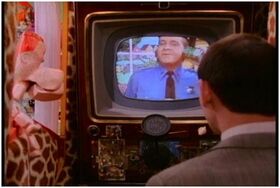 Episode Plot
Edit
Pee-wee shows everyone that there are fun things to do on a rainy day (making paper planes, having an indoor campout, reading letters, making hot chocolate, and a whipped cream shave). He also learns not to make prank phone calls. When he gets bored after doing all those things, however, he asks Jambi for help.
Pee-wee puts Pterri to sleep when the little pterodactyl gets scared of the thunder and lightning.
At the beginning, Pee-Wee sings the opening lines of The Beatles song "Good Morning, Good Morning".
First appearance of Reba, the exercise belt, the ant farm, and the magic glasses.
Miss Yvonne calls on the Picturephone to say she can't come over, due to her wild and frizzy hair.
Daryl the cop and his wife were played by George McGrath and Alison Mork, respectively. They are puppeteers who helped animate Chairry, Globey, and many of the other characters in the Playhouse, as well as provide their voices. This was Alison Mork's sole on-screen appearance on the show, but George McGrath would make another live-action appearance as Zyzzybalubah several seasons after this one.
Dixie doesn't play her trumpet fanfare when the King of Cartoons arrives because of the rain. She doesn't even bring it into the playhouse with her because the metal that the trumpet is made from rusts when in contact with water.
When Pee-wee asks for help (secret word) when the whipped cream sprays everywhere, the word is flashing on the screen like normal, but it is in red instead of off-white, probably because the word is screamed at out of distress and fear instead of amusement or pleasure.
Pterri is revealed to have astraphobia, or fear of thunder and lightning. He is put to sleep by Pee-Wee and placed into his nest as Brahms' Lullaby plays in the background. This scene later becomes stock footage for a scene in Beauty Makeover.
Secret Word: help
Connect-the-dots: umbrella
Snack: Hot chocolate
Wish: It would stop raining
Ad blocker interference detected!
Wikia is a free-to-use site that makes money from advertising. We have a modified experience for viewers using ad blockers

Wikia is not accessible if you've made further modifications. Remove the custom ad blocker rule(s) and the page will load as expected.