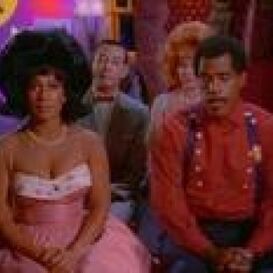 Episode Plot
Edit
Pee-wee looks for his magic glasses and puts them on. He pretends to be a caveman (complete with speaking similarly to Cookie Monster). Miss Yvonne comes over and they play airplane (Pee-wee as captain, Miss Yvonne as stewardess, and Randy, Globey, Pterri, Conky, and Billy Baloney as passengers). Reba comes over and talks about a date she is going to have with a fireman named Derek. Derek arrives and tells Reba that the Fireman's Ball was cancelled due to a fire in the ballroom itself, so they play drive-in with Pee-wee and Miss Yvonne as chaperones (for a double date). After the date, Derek offers to take Reba home and invites Pee-wee to visit the Fire Station the next day.
Miss Yvonne and Reba visit in this episode.
Steven James played Derek.
Penny is shown in this episode.
Final appearance of Reba, due to S. Epatha Merkerson wanting to leave the show at this point.

Reba will be mentioned a few more times, and will reappear in stock footage in the final episode.

After Pee-wee rides off on his scooter, the credits are shown on a red screen, with a heart in the middle with Reba and Derek kissing.
The King of Cartoons Doesn't Appear Before A Cartoon (It showed as the movie).
This is the second episode that features a fireman. The first was Fire in the Playhouse.
Conky requests that "Stewardess/Flight Attendant" Miss Yvonne give him a copy of "PlayRobot Magazine". This is an obvious spoof on Playboy/Playgirl Magazine, a world-famous magazine dedicated to nudes and pornography. Due to the nature of Playhouse, however, one can surmise that this magazine could be a "swimsuit" and "beauty" magazine instead.
Secret word: stop
Connect-the-dots: none
Snack: Airline mystery snack and movie theatre snacks.
Wish: none
Ad blocker interference detected!
Wikia is a free-to-use site that makes money from advertising. We have a modified experience for viewers using ad blockers

Wikia is not accessible if you've made further modifications. Remove the custom ad blocker rule(s) and the page will load as expected.