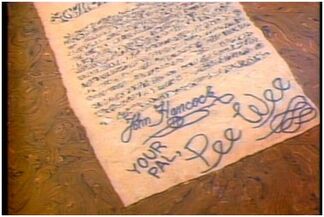 Episode Plot
Edit
Pee-wee reads a book. The Playhouse Gang comes over and have a breakfast snack and watch a cartoon. Creativity with pipe cleaners. Everyone plays school (Pee-wee as the teacher, Magic Screen as Blackboard, Globey as Globe). Pee-wee teaches American history, Mrs. Rene teaches acting, then the gang does a fire drill (with even Globey and Conky evacuating). Pee-wee and the Playhouse Gang talk about jobs that they could have after the commercial break. Pee-Wee and the Gang play in a rock band.
The Playhouse Gang and Mrs. Rene visit in this episode.
Pee-wee (playing the role of a schoolteacher) tells the Playhouse Gang (playing the roles of students) to settle down when they scream to the secret word during their game. While this is way more gentle than the instances in Pee Wee Catches a Cold and Love that Story, this is the third instance in which Pee-Wee has requested for the denizens to keep quiet in the Playhouse. The fourth instance is an angry one in Heat Wave when he snaps for "order", when everyone screams after Yvonne says the word "hear", the secret word of that episode.
This is the first time that God is mentioned in this series, during the scene where school is played. It is said during the bit where everyone is saying the Pledge of Allegiance. America the Beautiful can be heard in the background but no one is heard singing to it also.
Last appearance of Rapunzel, Fabian, Lil' Punkin, and Knucklehead. To this day, the actors for the three Playhouse Gang members have not come forward in interviews explaining the reasons for the character departures.
Pee-wee makes a dinosaur out of pipe cleaners, while the dinosaur kids make a Pee-wee that does the Pee-wee dance.
First time Pee-wee doesn't reveal the secret word; Rapunzel does it in this episode, but Pee-wee still gives the instructions.
The secret word is said once in claymation footage, when Pee-Wee says he and the others can sign the Declaration of Independence with a ballpoint pen which makes writing easy, which makes the People of the First Congress scream when he says the secret word. However, this would have changed history, as ballpoint pens were not invented until centuries later.
Secret word: easy
Connect-the-dots: none, even though Magic Screen is present
Game: Public elementary school
Snack: Cereal and fresh fruit
Wish: To play in a rock band