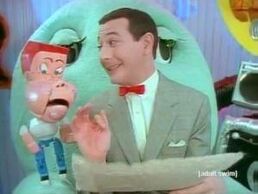 Episode Plot
Edit
Pee-wee sings the name song. Everyone can't decide what they want to do afterwards, so Jambi gives Pee-wee a to-do list. The list includes drawing a picture, blowing up a balloon, dressing up as a pirate, listening to a musical guest, taking a walk with Miss Yvonne, and even Pee-wee cleaning his room.
Miss Yvonne visits.
Last time there was connect-the-dots and a wish.

Last appearance and acknowledgement of Jambi.

Musical Guest was a video of a man singing.
The Name Song was first used in the episode Reba Eats and Pterri Runs, but was cut in later airings and the 2004 DVD re-releases.
Secret word: do
Connect-the-dots: skateboard
Snack: none
Wish: The To-do List.