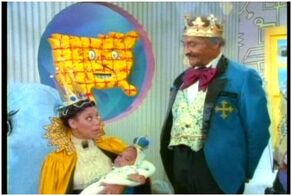 Episode Plot
It's the first day of spring, and Cowboy Curtis comes over and gives Pee-wee seeds to plant. Thanks to Clockey, the seeds grow right away. They have grapefruit for snack and Randy squirts juice at Pee-wee and Cowboy Curtis, so they both squirt juice back at Randy. The King of Cartoons brings over his family. Pee-wee tries out for little league and doesn't make the team, so Ricardo tells him that he should find a sport he is good at and do that.
Trivia
- Cowboy Curtis and Ricardo visit in this episode.
- Myrna White played the Queen of Cartoons.
- Only appearances of the Queen of Cartoons and the Prince of Cartoons.
Notes
Secret word: begin
Connect-the-dots: none
Snack: grapefruit
Wish: none
Ad blocker interference detected!
Wikia is a free-to-use site that makes money from advertising. We have a modified experience for viewers using ad blockers

Wikia is not accessible if you've made further modifications. Remove the custom ad blocker rule(s) and the page will load as expected.