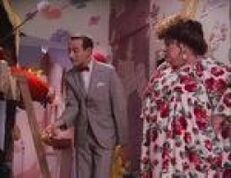 Episode Plot
Edit
Pee-wee doesn't get any mail, so he writes a letter to Captain Carl; when he tries to give it to Reba to deliver, Captain Carl comes over and Pee-wee gives him the letter and Captain Carl gives Pee-wee a telescope. Mrs. Steve confronts Randy for stealing her apples, and warns him not to do it again or she will turn him in to the cops. Randy plans to do it again until he gets a stomachache. Pee-wee becomes a fish for a little while. Pee-wee plays the four arms game with Tito. Pee-wee gives treats to the playhouse members
Reba, Captain Carl, Mrs. Steve, and Tito visit in this episode.
When Mrs. Steve gets Randy to come out from under the bed, she bounces on the bed.
Conky is the only playhouse denizen that doesn't receive a letter or package from Reba.
The King of Cartoons comes in wearing roller skates.
When Pee-wee says "there must be some mistake", no screaming is done by the Playhouse denizens even though 'there' is the Secret Word. When the screaming is done a second or two later (when Reba says the secret word twice), the bells fizzle out and the flashing word on the screen fades.
When Pee-wee is riding the tractor, he is singing "Pee-wee Herman had a Farm," he sings the same song in "Big Top Pee-wee" two years later while riding on a tractor.
Secret Word: there
Connect-the dots: tractor
Snack: banana
Wish: To be a fish for a short time.