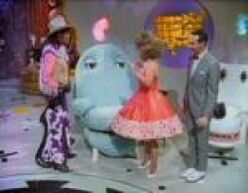 Episode Plot
Edit
In the season finale, Mrs. Rene uses the exercise belt. Everyone tries to guess the secret word. Pee-wee makes frozen fruit cubes for snack. Cowboy Curtis comes over, and they have an adventure in the Magic Screen. Pee-wee reads pen pal letters. Cowboy Curtis sings a song. Miss Yvonne comes over and plays store. Everyone has the frozen fruit cubes.
Mrs. Rene, Cowboy Curtis, Reba, and Miss Yvonne visit in this episode.
The Picturephone is used as a pretend elevator when Store is being played. It is revealed that up to three people can enter it despite there being only one seat.
First time Cowboy Curtis plays the guitar. The first character that did this was Conky in Just Another Day.
First time someone other than Pee-wee goes in the Magic Screen.
First time a Penny cartoon is shown before The King of Cartoons shows a cartoon.
First time there was no wish in an episode.
Secret word: more
Connect-the-dots: rail cart with tracks
Snack: Frozen fruit cubes
Wish: none
Ad blocker interference detected!
Wikia is a free-to-use site that makes money from advertising. We have a modified experience for viewers using ad blockers

Wikia is not accessible if you've made further modifications. Remove the custom ad blocker rule(s) and the page will load as expected.