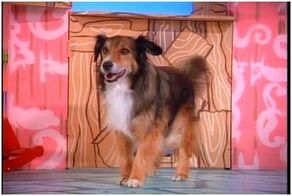 Episode Plot
Edit
Pee-wee plays with toys. The King of Cartoons performs Shakesphere. Pee-wee and Pterri play catch, and even try it the opposite way Pterri throwing and Pee-wee catching, but go back to
Pee-wee throwing. Mrs. Rene comes over to ask Pee-wee to give her a tango lesson. Pee-wee feeds Roosevelt. Cowboy Curtis comes over to look through Pee-wee's photo album. Jambi shows the scenes from the episode shown in fast motion, set to The Charlie Daniels Band's 1979 hit The Devil Went Down To Georgia.
The King of Cartoons, Mrs. Rene, and Cowboy Curtis visit in this episode.

Final appearance of Mrs. Rene, Cowboy Curtis, Roosevelt and the King of Cartoons

Only time The King of Cartoons shows two cartoons.
Penny is shown on this episode.
Secret word: fast
Connect-the-dots: none
Snack: none
Wish: To relive the day all over again.
Ad blocker interference detected!
Wikia is a free-to-use site that makes money from advertising. We have a modified experience for viewers using ad blockers

Wikia is not accessible if you've made further modifications. Remove the custom ad blocker rule(s) and the page will load as expected.